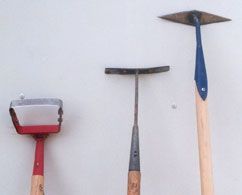 Made ya look. I woke up this morning threw up some content on ThriftyMaven. Then I tweeted about it, Kirtsied it, and also put it on Digg. After that I head outside to work on our little garden which is about to move from the containers and into the ground.
Darryl had run it over with a tiller the other day but there were still big clumps of grass. I worked on it with a hoe for about an hour. My hands hurt and I have some blisters. I still can't believe how excited I am about this whole little garden. What's wrong with me anyway? One might wonder why we are even bothering this late in the season but it seemed almost every weekend was filled with rain or too many things scheduled. I do have some things growing in empty cupcake containers, plastic bottles, and of course large flower pots.
It's all over but the waiting as far as the recipe contest goes. At this point I either made the top three or I didn't. I look around other people's sites and see that they ask people to vote for them on various other contests offering them extra entries in a contest. How many people wind up actually doing that I really have no clue. I guess that just causes me more aggravation and grief as I wonder if i should have tried doing something like that or if morally that is really a good thing do do.
Today is another bar for ThriftyMaven. I now have 400 registered users. I was pretty sad because there weren't that many people checking the site today. Right about 260 so far. However two people did sign up to be subscribers bringing me up to 400 new readers.
Blog Contests I entered today:
Prize: 100 Personalized Fortune Cookies in your choice of flavor (ARV $48).
Prize: RCA Small Wonder HC camcorder.
Prize: (5) Mac Microsoft Office 2008 Software (ARV $150)
Prize: Vera Wang Rock Princess, and $20 iTunes Gift Card (ARV $65).
Prizes (3): Strawberry Shortcake: Berry Big Journeys on DVD.