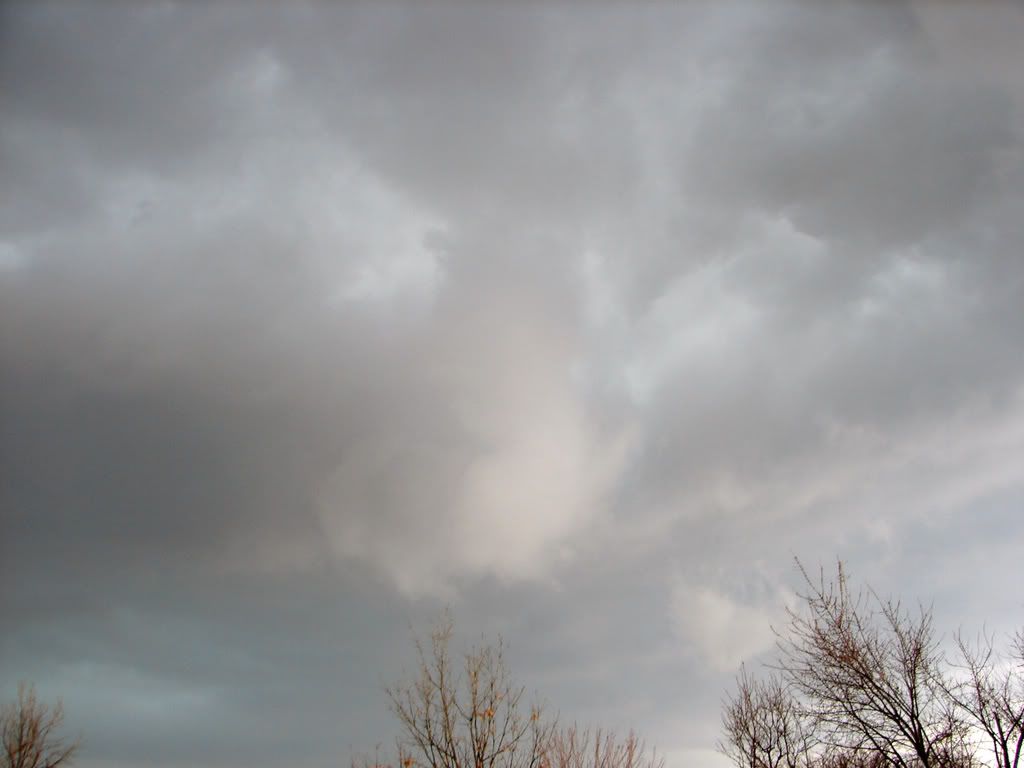 I drove to work in the dark with the rain coming down making it difficult to see. It cleared up later in the day only to find us under a tornado warning. As I sat in the faculty meeting at the end of the day I watched the dark clouds in the distance.
On my way home I was listening to the radio when the warning changed to a watch. The weather alert said a tornado had touched down in Cartersville near Cass and was headed towards White around 4:35.
The back storm clouds weren't the only thing making me nervous today. In the faculty meeting we were notified that things next year are looking even worse. Originally we didn't think we would be cutting any teachers. We were notified today that class sizes would increase next year and that they will be eliminating twelve faculty jobs system wide. I could just feel my stomach drop. Dr. Evans says he hopes that this can be handled through attrition.
For the remainder of the year there will be no money for field trips, no money for professional leave or conferences. The budget was explained as to why there were new computers going into many of the rooms at Rome High in the face of all these cut backs. You see in schools there are different funds and each fund spells out specifically what can be purchased with those monies. You can't use Title One Money for things like field trips, etc, etc. So there was money for new computers but not necessarily for teacher salaries next year.
Even while I am typing this I can hear another storm headed this way. We can see the lightening in the distance and hear the thunder rumble. I hope that it isn't going to be as bad as the earlier storm.
I saw an article on the news about a blog where the woman was going to live on $1,500 a year with a family of four. Actually that's a little deceptive because they aren't living off that. That's the amount they are spending each month on their personal items. Here's what it says:
On 1/1/09, my family (2 adults, 1 preschooler and 1 toddler) decided to create the challenge to live on $1,500 for one year for groceries, household items and personal expenses (haircuts, medical copays). I started diligently using coupons in July 2008 and we built up a decent stockpile last year. Our 2009 goal is to make the most of what we have in our household and see if it is really possible for four people to survive on $1,500 for one year.
They are living off stockpiles and she doesn't count the cost of those stockpiles in her calculations. It's good to want to save money but I think you should be honest on how you are able to do it. I checked out her blog and it's really a story and that aspect is good. I have some articles in my thrifty maven but there are also things that are just about savings.
Perhaps I should rethink what I'm doing with Thrifty Maven. I'm thinking about writing a series of articles about dealing with layoffs. I will have to speak with Darryl though.
I have to close before the storm hits.